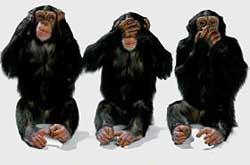 The IDEA Center has three tiers of leadership: An Administration Team, a Board of Directors, and an Advisory Board.
The IDEA Center has 3 tiers of leadership--an
Administration Team (i.e. Staff)
, a
Board of Directors
, and an
Advisory Board
.
The
Administration Team
runs the day-to-day operations of the Center. The Administration Team also includes Steve Renner, Ryan Huxley (President), Mario Lopez (Information Support Technician), and Casey Luskin.
The
Board of Directors
sets the mission, goals, and major policies for the Center, while the
Advisory Board
consists of scientists, scholars, and authors who advise the IDEA Center from their pro-intelligent design academic viewpoints. We are pleased to announce that our
Advisory Board
includes:
John Baumgardner
,
Michael Behe
,
William Dembski
,
Mark Hartwig
,
Phillip Johnson
,
Jay Wesley Richards
,
Dennis Wagner
, and
Jonathan Wells
.