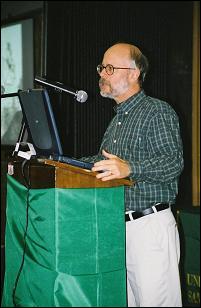 Pictured here is Michael Behe speaking at an IDEA-sponsored event. With a bit of planning and work, IDEA Clubs can sponsor events like this at their own campuses to outreach to their respective communities.
The following is an adapted section from the
IDEA Club Leadership Manual
. All students who start an IDEA Club receive a
Leadership Manual
with a more detailed and comprehensive information to help them run a successful club.
What is an "Event"?
After you have started your IDEA Club chapter, you might want to try putting on some large campus events. Events are large-scale activities put on by an IDEA Club which require much larger-than-usual amounts of planning and money. While an IDEA Club might host regular discussion meetings which are advertised on campus or to which the public may be consistently invited, an "event" is an occasional activity put on by an IDEA Club which will be extensively advertised to the public.
So what are some examples of events? Events could include:
Hosting a free public lecture with an expert speaker

Showing a free video or movie and inviting people to come

Hosting an "Intelligent Design Workshop" where interested members of the faculty or student body can come learn and ask questions about intelligent design

Host a public debate between 2 experts over a topic

Doing some sort of a promotional event for the sole purpose of publicizing the club

The sky's the limit--dream up your idea here!

Get Started Planning Your Event!
Any event takes planning, but with the help of a few friends, a little hard work create a very successful event.

First off, a number of questions must be answered. What is the vision and purpose behind the event. What are some ways you can accomplish your goal? When is the best time to hold this event? How many people do you want to have attend? Where can you accommodate the number of people at the time you want to hold the event? How much money will the event cost? How much money is available, and from where will it come? These are all questions which must be answered, but by taking them one step at a time, an effective successful event can be planned. Consider these steps to give you a framework to help plan your event:

1. Come up with an idea, vision, or set of goals for the event.
2. Determine what is necessary to implement the vision and create a budget.
3. Contact your school's administration and inquire about possible venues and available dates for the event. Make the reservations for the proper facilities to put on the event.
4. Identify possible sources of funding and begin to request money for the event.
5. Reserve the proper resources, equipment, and personnel necessary for the event.
(steps 3, 4, and 5 should happen at about the same time) 6. Publicize the event.
7. Host the event.
8. Follow-up from the event.

Picking an event location and date.
Campuses usually make their facilities available for student groups to use for events. Auditoriums and classrooms are a great place to bring a speaker, or host workshops, while theaters are better for videos or movies. Depending on the nature of your event, you might want to even look into using outdoor facilities.

School nights are usually the best times to host big events on campus as people are already on campus. (Plus people typically aren't interested in attending these sorts of events on weekends.) Somewhere in the middle of the term is the best time of the year to plan events, as people won't be studying as hard for tests and you'll have plenty of time for publicizing your event. Try avoid times of the year when many people are taking tests, such as close to finals week. Also, try to avoid the very beginning of academic terms, as you will need at least a couple of weeks to publicize the event. (Simiarly, Mondays also aren't a great day, because it only gives one day of the week of the event for publicity).

As zany as this may sound, through experience, we have found that it is best to plan events on Tuesdays, Wednesdays, or Thursdays somewhere in the middle of academic terms. Of course events don't have to take place at these times, these are just our general suggestions.

Fundraising for an Event.
Unfortunately, putting on an event is not free. Raising money for an event can be hard--but it can be done! Student governments typically support student groups--regardless of their mission--by providing financial support and funding. Find out if your school's student government helps fund student organizations to put on events. If they do, try to put in a request for funding. Local community groups who have an interest in creation-evolution issues are also often willing to help sponsor IDEA Club events by donating money, facilities, or resources. Churches are often a good place to go for help with this. If the IDEA Center has money, we'd like to help you out too.

Be sure to plan the event far enough in advance to allow for enough time to raise the money. Raising money seems like a daunting task, but in the end, it can happen and should never prevent anyone from wanting to put on even a big event! Fundraising can be hard, and if you're having funding woes with an IDEA event, we want to help you--please don't hesitate to e-mail Ryan Huxley (IDEA Center President) at "ryan@ideacenter.org"!

Publicizing an event:
The key to hosting a successful event is to publicize it well. You can put in all the time and raise all the money in the world, but if no one knows about the event, attendance will be low. If you plan on inviting the public to an event, it is a good idea to publicize the event as much as possible and make use of every available publicity resource.

Typically, schools allow student groups to post flyers for their groups events. Find out where and how these flyers can be posted and post as many as you can! Putting larger posters around campus in public places are another good way to get the word out. If you have money, you might want to even try putting an advertisement in a campus newspaper. Many campus newspapers even have calendar sections which student groups can post notices of their events and meeting for free. Some schools allow e-mail announcements to be sent out to the entire student body--if you can, make use of these! This are easy and effective ways to reach many people and publicize an event.

Other ways of publicizing include making use of electronic scrolling marquis, making use of campus radio or TV, and if you have the resources, put an add in on an off-campus radio station or newspaper. Community groups, such as churches, often are interested in creation-evolution issues and appreciate being notified of events. Getting a flyer or announcement put in a local church bulletin is often a great way to outreach to the community and boost event attendance! Finally, don't forget that professors and teachers often allow students to make announcements or put notices on chalkboards about events. Science, philosophy, or religion classes often have many students who are very interested in these sorts of issues. By making announcements or passing out flyers to these classes, many interested students can find out about an event--but be sure to ask the professor first!

In review, here are a few good publicity techniques and ideas:
• Flyers posted in classrooms, common areas, dorms, and dining facilities
• Posters posted along common walkways, and in public areas
• E-mail notices sent out to the student body or various campus departments
• Advertisements in campus newspapers, or on campus radio or TV
• Notices in newspaper calendar sections or on calendars on the internet
• Announcements or flyers in church bulletins
• Flyers passed out to classes which specifically relate to the topic of the event
• Writing on classroom chalkboards or whiteboards about the event
• Skywriting or shaving "IDEA Club" into the grass on the campus quad...OK, maybe this isn't a good idea, but get creative!

Hosting a speaker:
Hosting a speaker is a great way to outreach to your campus and community, as people love to congregate to hear speakers--even if they disagree! The IDEA Center has connections to a variety of speakers though which we'd like to help you find speakers you'd like to bring to your campus to speak on topics you'd like. Depending on demand for their speaking services, speakers can be free, cheap, or very expensive--the highest profile speakers can ask for amounts of up to $1000. But don't let their price tag stop you! If publicized well, these speakers easily draw over 500 people and will massively publicize the IDEA Club.

Costs involved with bringing speakers typically include the honorarium (the speaker's speaking fee), travel costs, lodging costs, and food costs. Travel costs can often be cut down if other groups in your area are also interested in bringing the speaker and share travel costs. Lodging costs can also be cut if someone with a nice home is willing to lodge the speaker during his or her brief stay.

If you bring a speaker to your campus, make use of him or her! If the speaker will be available to you for the entire day, the speaker is often willing to appear at multiple engagements during the day without charging anything above the agreed upon honorarium. One great way to make use of a speaker is to plan a student "Favorite faculty" luncheon, where students can invite the faculty member of their choice to come and hear the speaker at an informal luncheon. Other possibilities include having the speaker come to a class, to address the IDEA Club personally, or to speak informally at a special students-only function.

One note about speakers--the use of laptops with Powerpoint presentations is very common today, and it is likely that your speaker will need you to rent a computer projector so that the Powerpoint presentation can be displayed on a screen. You'll have to consult the technical services at your school to find out about how to rent a project and have one set up. Many community groups, such as churches, often have computer projectors which they use for their own events. If you can borrow a projector from a group like this, it can save a lot of money over renting one from the school (unless, of course, the school does not charge for using their equipment).

Hosting a Video or Movie Night:
Movie nights or Video nights are an easy and inexpensive way to outreach to a campus. Students love to watch movies--especially when they're free! By reserving an auditorium or campus theater for an evening, a video can be a cheap, fun, and effective method of outreach. After the movie, you could invite people to the club, host a discussion, or provide food for a social mixer!

IDEA has a wide variety of videos available in its lending library for IDEA Clubs to use. Another good resource is the Access Research Network's Video Collection, where a large number of intelligent design videos on various topics can be purchased online. It's always possible to show a relatively benign flick where creation-evolution issues are raised just to peak interest. Movies like "Jurassic Park", "The Matrix", "Contact", or even "Planet of the Apes" are just a few possible movies that might raise questions about origins and could get people discussing these issues. Others, such as "PBS Evolution" or "Inherit the Wind", though pro-evolution, might be good discussion starters. No matter what you show, be sure to obtain copyright permissions to show the videos on your campus!

The nice thing about video or movie nights is that technical costs are typically low. Projectors, a sound system, and a screen are simple to set up and cost little. All that's left for you to do is publicize, publicize, and publicize!

Hosting an Intelligent Design Workshop:
The "Intelligent Design Workshop" is a way to give interested students and faculty at your school the chance to learn about intelligent design. These workshops take them through the arguments for and against design, and allow people to ask questions about the issues. Much like a discussion meeting, these workshops consist of presentations followed by discussion. The presentations are on topics explaining intelligent design from the bottom up.