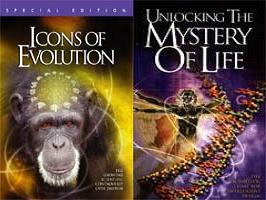 Each IDEA Club receives their own copies of some of the best quality videoes that promote intelligent design.
Our goal at the IDEA Center is to maximize the ability of IDEA Club Chapters to promote intelligent design. We realize that many students may not have the time, money, technology, experience, or simple access to the best materials they can use to promote intelligent design and run a successful club. We provide those materials to attempt to maximize their ability to outreach to their communities.
Benefits that the IDEA Center provides to IDEA Club Chapters include:
Books and Videos for the IDEA Club to own and use at its functions.

Each IDEA Club receives copies of the best videos that can be used to promote intelligent design, as well as copies of some of the best books by intelligent design proponents. These can be used to educate club leaders, start a club library, or to show and discuss at club events.



The IDEA Club Leadership Manual.

The IDEA Club Leadership Manual is a practical guide to running an IDEA Club with needed information and helpful tips. Contents include extensive tips on planning meetings, running meetings, planning events, doing publicity, creating a website, promoting intelligent design with integrity, and answering common objections to design.



Invitation to the IDEA Club Leadership Training Conference.

The IDEA Center hopes to host periodic IDEA Club Leadership Training Conferences to train students in the science, philosophy, and leadership skills necessary to run an effective IDEA Club. Conference attendees will learn about the science, philosophy, leadership skills, logistical skills, and integrity that helps to run a successful IDEA Club.



Copies of "Critical Thinking Guides" (CTGs) through which IDEA Clubs can teach and inform others.

CTGs are short, illustrated, and well-references summaries of common issues discussed in the debate over in intelligent design and creation - evolution. We have already developed a number of CTGs and they make good tools to pass out to students around campus or to provide the basis for informing members at meetings.



Access to Overhead Transparencies and PowerPoint Presentations.

IDEA staff have much experience teaching on intelligent design and creation - evolution, and along these lines have developed many presentation tools. Leaders who demonstrate sufficient background knowledge may use some of our overhead transparencies and PowerPoint presentations during club meetings and events so they can convey the information they already know with ease.



Our pledge to try to Answer Your Science Questions

IDEA Center staff have experience answering tough science questions, doing research, and answering common objections to intelligent design. If IDEA Club leaders or members come across tough issues that they need help addressing, IDEA Center staff are always available to help research, and answer tough questions.



Connection to an International Network of other IDEA Club leaders.

All IDEA Club leaders are connected through an online internet community that allows them to share ideas, successes, failures, brainstorm ideas, answer questions for one-another, and help one-another to lead their own respective IDEA Clubs. We also encourage IDEA Club leaders to participate in other intelligent design groups with student interest such as the Intelligent Design Undergraduate Research Center (IDURC) and the International Society for Complexity, Information, and Design (ISCID).



Continual Updates on Origins Science News.

IDEA Center staff have backgrounds in science, and keep a close eye on the latest findings in mainstream science. News of important research discoveries and new findings are relayed to IDEA Club leaders to they can stay informed, and use that information for club discussion and outreach.



Priority access to the IDEA Center's extensive Creation - Evolution Book and Video Library.

The IDEA Center has over 100 different books, videos, and audio tapes which are available for free checkout so IDEA Clubs can remain educated. IDEA Club leaders and IDEA Club members have priority to use these materials. IDEA Clubs often borrow materials to show and discuss at club events.



Copies of Important Scientific Papers to educate students about intelligent design and creation - evolution.

Each IDEA Club receives copies of over 50 articles and papers from mainstream scientific journals that make important scientific points that help demonstrate support for intelligent design theory or question evolutionary theory. These can be used to educate IDEA Club leaders and members and challenge them to become more familiar with the primary scientific literature. Each paper comes with a summary to help students learn and understand how to interpret and use the papers correctly. The scientific papers can be used to educate and promote awareness of evidence from mainstream science that supports intelligent design.



Copies of intelligent design Journals, Literature, and News Articles.

IDEA Clubs also receive copies of journals devoted to intelligent design, key excerpts from books on intelligent design, and a media packet containing copies of many articles from the news media about intelligent design. These make great promotional tools to hand out to promote IDEA Clubs and intelligent design.



Brochures, and brochure Templates for Advertising clubs.

All IDEA Clubs receive IDEA Center and IDEA Club brochures through which they can advertise their organizations. They may also make their own brochures using electronic brochure templates we have created to help them make brochures tailored to their clubs.



An "IDEA Club Sign" and Three-panel Booth Display on Intelligent Design and Evolution.

Each club is given a high quality 2' x 3' vinyl IDEA Club Sign which rolls up for easy storage. These attractive and versatile signs have color and can be used indoors or outdoors for display at IDEA Club events. Each club also receives the materials to create a 4' x 3' three-panel science-fair type display on intelligent design and evolution, as well as a handout that accompanies the display. These materials are ideal for putting together an attractive an compelling IDEA Club booth display on intelligent design.



Connections to many Speakers in the intelligent design movement, and help with bringing them to campuses.

The IDEA Center is thankful that we have connections to many scientists, scholars, and authors in the intelligent design movement who speak regularly on intelligent design. These scholars love speaking before students and we can help connect IDEA Clubs to these speakers so they can sponsor speaker lectures on campuses.



Assistance with Website Design and Free Access to Webspace for IDEA Club websites.

The IDEA Center has staff members who are experience web programmers and can help IDEA Clubs put together basic websites for their clubs. We encourage clubs to use free webspace that most campuses afford to their student organizations, however if the need exists, we can provide free access to webspace to IDEA Club websites.



Financial Assistance and Funding to put on events.

Finally, when funding is available, the IDEA Center can help IDEA Clubs sponsor speakers or various types of large campus-wide events, as well as purchase materials necessary for the clubs.
Help us Provide these benefits to IDEA Clubs!
Providing these materials to IDEA Clubs is not free! Though we already are able to provide most of these materials to all new IDEA Clubs, funding limitations prevent us from fully providing the support we would like to provide. If you would like to help the IDEA Center support IDEA Clubs in their promotion of good science and intelligent design theory, we humbly ask that you might consider making a
donation
to the IDEA Center.
Donations
help students make a direct impact on their campuses by providing materials through which they educate their fellow students about the scientific evidence that supports intelligent design. This evidence might otherwise never be heard by many students from what they learn in most science classrooms.