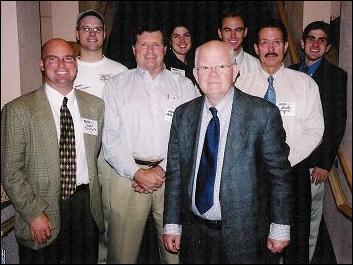 IDEA staff pose with UC Berkeley Law Professor Phillip Johnson after a Center - sponsored lecture. Our small staff is based out of San Diego, California, and handles the programs and activities of the IDEA Center.

Professor Johnson, whose writings helped form the intelligent design movement, is a member of the IDEA Center's Advisory Board.
The IDEA Center has a small Administrators Team (or Staff) who run the day-to-day operations of the Center, including outreach, communication, intelligent design promotion, web-related issues, financial management, and IDEA Club Chapter coordination. Please click on an individual's name for biographical information. (Bios are descriptions of the primary administrators of the IDEA Center and are not necessarily representative of the beliefs, philosophies, or interests of the IDEA Center as a whole or any of its members, affiliates, or IDEA Club chapters).