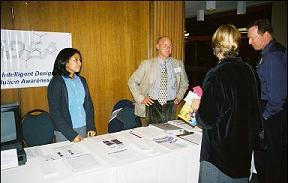 IDEA staff converse with attendees at the IDEA Conference 2002 (above), where many signed up to become IDEA Center members. We keep IDEA Center members apprised of happenings in science, and in the IDEA Center. Please read the text at left for more information about how to become an IDEA Center member.

All IDEA Center members receive notice of our free semi-annual newsletter, The Light Bulb (below).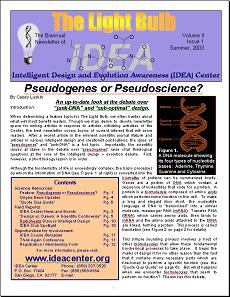 Quick Links:
The Best Things in Life are Free--Become an IDEA Center Member!
Becoming an "IDEA Center Member" is easy. As an "IDEA Center member," you'll be put on our e-mail announcement list and you'll receive occasional e-mail updates, including information about our free
newsletter
,
The Light Bulb
, with intelligent design updates, creation-evolution resources, and science news reports! We will also keep you updated about IDEA Center activities through the newsletter and other occasional e-mails. The cost is free, however
donations
are needed and humbly accepted. Thanks for your interest in becoming an IDEA Center member! We look forward to keeping in touch with you in the future!
There are 3 ways to become an IDEA Center member:
1. Submit Membership Via Our Online Form:
Simply visit our
Online Membership Submission Form
and submit your membership information online.
2. E-mail us:
To e-mail your membership, simply send us an e-mail at
membership@ideacenter.org
and give us your name and e-mail address. If you feel comfortable, please also include a mailing address or phone number, and academic affiliation for contact purposes. Please see our
Privacy Policy
for any questions about giving us your contact information.
3. Print a Membership Form and Mail it in:
You can also surface mail in your membership form, please print out our
Printable Membership / Donation Form
[
PDF format
, 50 kb], and then hit "print" on your web browser, fill it out, and mail it to:
IDEA Center
P.O. Box 3245
Seattle, WA 98114

Privacy Assurance:
Please be assured that the IDEA Center will NOT give away any information you submit here to anyone. We will only use the contact information you provide here to keep you informed of IDEA Center activities, intelligent design updates, and to send notice of newsletters. If you would rather not use this online form to provide your contact information, please see the other options below. Please note that all fields are voluntary. If you have any questions or concerns, please feel free to e-mail us at "
membership@ideacenter.org
".