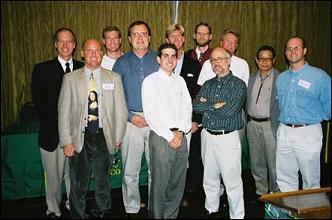 IDEA Conference 2002 speakers and organizers, including Michael Behe, Paul Nelson, Jay Richards, and Cornelius G. Hunter.
The IDEA Center periodically hosts large 1-2 day conferences which teach both introductory and advanced topics in intelligent design theory and the creation - evolution issue. Conferences typically have a modest admission fee (around $25) and bring scientists from the intelligent design movement who can speak with authority about intelligent design theory.
We do not have any conferences scheduled in the immediate future at this time. Please see our
Conferences Archive Page
for details about past conferences.