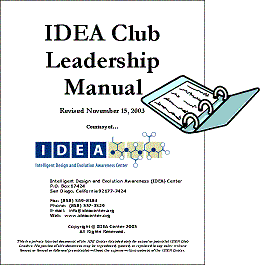 All IDEA Club leaders receive an IDEA Club leadership manual with tips, tools, and ideas about how to run a successful club. This manual is included with many other resources as a part of the IDEA Club's Startup Packet.
About The IDEA Club Leadership Manual
Every person who starts an IDEA Club, or becomes the leadear of one, will receive an
IDEA Club Leadership Manual
. The manual is a 65 page "how-to" reference manual that gives tips and advice to help a prospective or current IDEA Club leader to deal with just about any situation that could arise. Topics covered in detail in the manual include:
How to Start a Club
Background on the IDEA Center
How to Strategically Schedule Meetings and Choose Meeting Topics
How to Start and Lead Discussion
How to Handle Heated Meetings
How to Create a Budget and Plan an Event
How to Publicize Events and Meetings
Creating a Website
Promoting Intelligent Design with Integrity
Answering Common Objections to Design
While there is much information in the manual, it is intended to be a reference manual, to be referred to as needed. The chapters and sections are intelligently designed so the information you seek is easy to locate. Chapter and section summaries make learning how to run an IDEA Club easy and efficient.