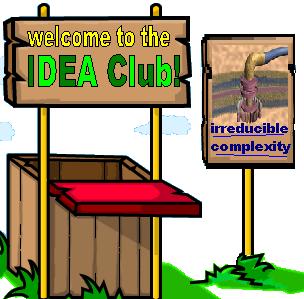 The IDEA Center provides many types of resources through which IDEA Clubs can promote intelligent design theory! Students who start IDEA Clubs will receive many of these resources in a Startup Packet for their club.
The IDEA Center aims to make it as easy as possible for you, as a busy student, or interested community member, to promote intelligent design. We provide a variety of useful resources and outreach tools to anyone who starts an IDEA Club to facilitate the ease of promoting intelligent theory on a campus or in a community. The resources we provide include:
Material Support by providing educational papers, pamphlets, displays, journals, books, and videos to educate people about intelligent design theory and the creation - evolution issue.
Practical Support by providing a Leaders Manual with information and tips for running a successful club.
Scientific Support with an experienced staff to answer questions about intelligent design theory and creation - evolution issues, and provide current updates on findings in science, culture, and education.
Community Support by connecting IDEA Club leaders to a network where they can help one another, and also to many potential speakers, such as leading scientists in the intelligent design movement.
Internet Support by providing webspace and online discussion boards for any IDEA Club in need.
Financial Support to fund IDEA Club events.
and

Ongoing Moral Support from a staff that is committed to advising and encouraging IDEA Club members through any issue they may encounter.

Please select one of the following links to read some sample resources provided by the IDEA Center to IDEA Clubs: