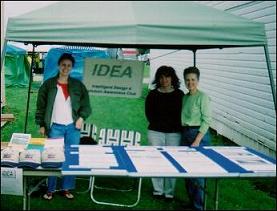 The IDEA Center hopes to help train all IDEA Club founders in whatever science, philosophy, or leadership training they need to run a successful club.
About Training Conferences:
The IDEA Center hopes to host period IDEA Club Leadership Training Conferences to train students in the science, philosophy, and leadership skills necessary to run an effective IDEA Club.
On September 27-28, 2002, the IDEA Center hosted its first IDEA Club Leadership training sessions at the
IDEA Conference at the University of San Francisco
. Students were able to learn about how to start and run an effective IDEA Club. Students were able to learn from experts about the scientific, religious, and philosophical issues surrounding intelligent design theory, and each attendee had the opportunity to attend two one-hour training sessions specifically geared to teach people how to start an IDEA Club.
We do not know when the next IDEA Club Leadership Training Conference will be scheduled at this time. In the mean time, students who desire to be learn about how to lead an IDEA Club are encouraged to contact Casey Luskin at
casey@ideacenter.org
to ask any questions, and to request an
IDEA Club Leadership Manual
.
What Student Can Expect to Learn:
Students who attend the IDEA Club Leadership Training conference should expect to:
Catch the vision behind IDEA Clubs and learn how to implement that vision

Hear science seminars taught by experts and pro-intelligent design scientific researchers

Get hands on training from experienced IDEA Center staff on leading discussions, planning events, and fostering growth among club members

Learn about the scientific and philosophical questions of intelligent design theory and creation-evolution issues

Go home with a variety of resources and materials that can be used as to start a chapter, including an IDEA Club Startup Pack

Receive valuable mediation skills and learn how to handle and mediate conflict with integrity among peers.

Learn scientific knowledge applicable in the club and elsewhere.

Build their confidence that they can successfully run an IDEA Club chapter.

Receive financial help attending the conference (as sufficient funds are available from the Center)

Although we do not know when the next conference will be at this time, the IDEA Center is happy to help at any time, any student to learn the leadership skills necessary to run an IDEA Club. If you are interested in starting an IDEA Club and desire to learn these leadership skills, please contact Casey Luskin at casey@ideacenter.org. Thanks for your interest!