The molecules from the IDEA Center logo actually spell IDEA through biochemistry! Read on for the full explanation:

1. The picture in the logo represents a string of four amino acids, the building blocks of proteins. The solid blue circles symbolize nitrogen (N) atoms and the unfilled blue circles represent oxygen (O) atoms.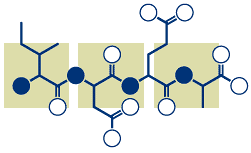 2. The graphic below shows how an organic chemist would draw the logo molecule, showing nitrogen and oxygen atoms.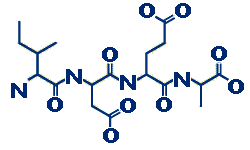 3. When chemists draw organic molecules, such as this one, they typically leave off carbon (C) atoms that form the bonds in the hexagonal "benzene" rings, and also leave off the hydrogen (H) atoms that form covalent bonds with the carbon atoms. Below is the full molecule with all atoms listed: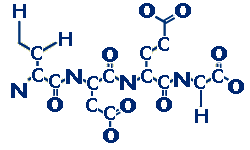 4. In organic chemistry, each amino acid is ascribed an alphabetical letter for identification. By putting together the four amino acids Isoleucine (I), Aspartic Acid (D), Glutamic Acid (E), and Alanine (A), the logo spells IDEA through biochemistry. Special thanks to an old member of the
IDEA club at UCSD
, Mike Kostura, a guy with an incredible eye for detail, for the help with creating and designing the molecule logo.