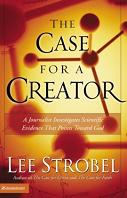 On May 6 & 7, 2005, various scholars from the intelligent design movement will be speaking at a conference up in San Juan Capistrano, California. The title of the conference is the "
Case for a Creator Conference
," named after former Chicago Tribune reporter Lee Strobelís recent book "
The Case for a Creator
."
The IDEA Center is NOT sponsoring this conference; however, because there are various well known ID speakers at this conference, we felt it important to let people know about this event.
For registration information, go to the
conference flier
provided by the organizer on their website.
Speakers featured include ID-philosopher Dr. Jay Richards and ID-biologist Dr. Jonathan Wells as well as Lee Strobel, and philosopher Dr. J.P. Moreland. The conference is being sponsored by and held at
Capistrano Valley Church
.
Dr. Jay Richards
is a member of the IDEA Center's Advisory Board and is co-author of "
The Privileged Planet
" (this book led to
The Privileged Planet
documentary video) and
Dr. Jonathan Wells
, also an IDEA Center Advisory Board Member, is author of "
Icons of Evolution
" (this book motivated the
Icons of Evolution Documentary
and
Study Guide
).
While identifying the designer is beyond the scope of ID theory, this conference will investigate the scientific hypothesis and philosophical implications of intelligent design with some of the scholars of the ID movement. Be prepared for a fascinating conference exploring key scientific and philosophical questions surrounding the scientific theory of ID. Though this conference is not sponsored by the IDEA Center nor any IDEA Club, we would recommend attending based on the speakers and material likely to be discussed.