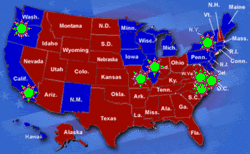 It appears as if the eight new IDEA Clubs are evenly split between "red" states and "blue" states.
One New Club also Formed at a San Diego area High School
Student interest in IDEA Clubs seems to be growing, particularly at the university level. The IDEA Center is pleased to announce the formation of seven new IDEA Clubs at universities around the United States over the past few months, and one new club at a high school.