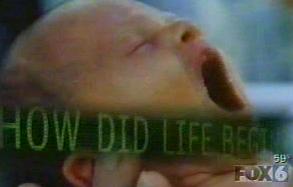 Click on the picture above to view the ~3.6 Mb '.mov' file of the Fox 6 News story (aired 2/28/05).
On February, 28, 2005, Casey Luskin was on
Fox 6 San Diego News
during a segment discussing intelligent design. The segment lasted about 6 minutes and had both critics and proponents of intelligent design discussing the theory. The segment also highlighted some of the recent incidents taking place at school boards around the country.
Firstly
, it should be noted that the segment was excellent. It contained segments with 2 people from each side of this issue, and accurately portrayed the views of people on 'both sides.' It was impressive that Greg Todd, the San Diego Fox 6 News Reporter, was able to get a one-on-one interview with prominent evolution-advocate Eugenie Scott, as well with ID critic Mark Perakh. The pro-ID side was represented by Casey Luskin, and
Dr. Tom English
, both affiliated with the IDEA Center. Dr. English was shown teaching his students at Palomar College about intelligent design. The UCSD IDEA Club was also briefly mentioned.
The segment was also excellent because it took the liberty to help viewers understand the claims of intelligent design as they are made by its proponents. The segment actually contained a few brief segments from videos advocating intelligent design. In short, the segment came across as very objective in its portrayal of the issues. Mr. Todd should be commended for his accurate and in-depth reporting on this issue.
Despite the fact that Mr. Todd and Fox 6 did a good job with the segment, the views of Eugenie Scott as she expressed them in her interview require a response. Below are 4 points made by Eugenie Scott in her interview, followed by 4 rebuttals (her claims are currently paraphrased but exact quotes may be inserted later):