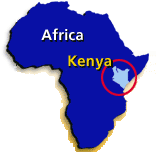 The IDEA Center is excited to announce the beginning of the first IDEA Club outside of the United States with the founding of the IDEA Club at
Braeside High School
in Nairobi, Kenya! Founded by teacher Caleb O. Seda, the club will help students to learn about intelligent design theory.
Swahili is the national language of Kenya, however English is the country's official language of government. Both Swahili and English are taught in the schools, so we won't have to translate our materials into Swahili just yet.
Kenya is famous for being the home to many famous hominid fossils such as those which come from the Koobi Fora locality.
For more information about the IDEA Club at Braeside High School in Nairobi, Kenya, please contact Caleb O. Seda at
.