May 24, 2007 at 7:00 pm
Where: Poway High School, 15500 Espola Rd., Poway CA 92064, Room K1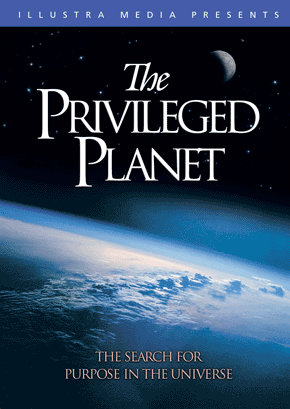 Pictured above is the cover of The Privileged Planet video by Illustra Media.
Event Details: Who:
IDEA Club of Poway High School
What & When: Free public showing of '
The Privileged Planet
' on 5/24/07 followed by a panel question and answer period. This event is from 7 - 9 pm. '
The Privileged Planet
' investigates the scientific evidence for the privileged place planet Earth inhabits within the universe as well as the fine tuning and intelligibility of the universe.
Where:
Poway High School, 15500 Espola Rd., Poway CA 92064, Room K1:
http://powayusd.sdcoe.k12.ca.us/pusdphs/CAMPUS/MAP.htm
(on the map, north is to the right). The big "K" on the lower right of the map is the actual room. Parking should be available on the south side of campus off Titan Way due to construction and you will have to walk through the campus (behind the Performing Arts Center).
Why: To provide education of and answer questions you may have about Intelligent Design.
How: Just show up and invite others to come that you think would be interested in this topic.
Back