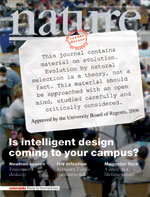 Above is the cover of the April 28, 2005 issue of Nature (Vol 434 [7037], pg. 1062-1065). The cover reads "Is intelligent design coming to your campus?"(2005). IDEA was mentioned extensively in various articles playing on that theme.
In early February, 2005, a reporter from the scientific journal
Nature
called the IDEA Center for information on a feature on student interest in intelligent design on college campuses. Various IDEA Club leaders--including Salvador Cordova and Russell Hunter--and also IDEA Center co-president Casey Luskin, were subsequently interviewed by
Nature
reporter Geoff Brumfiel. Brumfiel's piece came out in the form of various articles in the April 28, 2005 issue of
Nature
, and the feature article focused on GMU IDEA Club leader Salvador Cordova.
Two of Mr. Brumfiel's articles focused on IDEA Clubs, with his primary article specifically focusing on George Mason University IDEA Club leader Salvador Cordova. Another article quoted Oklahoma University IDEA Club Leader Russell Hunter, and also quoted UCSD IDEA Club founder Casey Luskin. Brumfiel even highlighted an IDEA Club-sponsored survey which found that 75% of biology majors at James Madison University desired to have a class taught in intelligent design and/or creationism. IDEA is grateful to reporter Geoff Brumfiel for putting together these articles about our organization.
Below is a collection of responses and reflections to the April 28, 2005
Nature
articles which mentioned ID and and IDEA:
Please check back in soon as more responses may come out as time goes on!