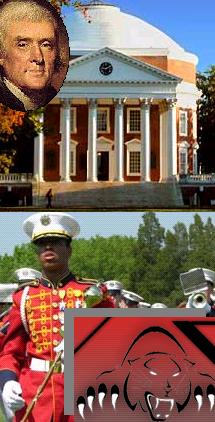 The latest IDEA Clubs to form are three IDEA clubs in the southeastern United States.
The first club is at the
University of Virginia
, in Charlottesville, Virginia. This is a unique IDEA Club in that multiple students came to us independently wanting to start a club there! The club will be led by enthusiastic sophomore biology major Kristina Audra-Pilar Hereford, but has a number of pro-intelligent design undergraduate and graduate students who are already involved. Their faculty advisor is Associate Professor Bryce Paschal, Ph.D., of the UVA Center for Cell Signaling.
The University of Virginia is a
historic university
in the United States, as it was founded by Thomas Jefferson and one of its earliest leaders was James Madison. It is well-known for its historic architecture, prestigious medical school and law school, and it typically ranks first or second among public universities in the United States, according to U.S. News and World Report.
The second club is at
Fork Union Military Academy
. in Fork Union, Virginia (near Charlottesville). Fork Union Military Academy is a private military Christian high school which describes its student body as follows:
The young men come from near and far and from all stations in life. They are a wide range of races, religions, talents and abilities. What they have in common is the desire to go to college one day, and parents and relatives who want them to have the education it takes to get there.
The third club is formed by a high school junior Mireia Farrell at
South Mecklenburg High School
, a public high school in Charlotte, North Carolina. Mireia is excited about getting a club started and she will be helped by her sister, Amanda Farrell.
South Mecklenburg High is fairly large and diverse, with about 2200 total students, 34% of which are minority students. Their ESL program supports over 35 nationalities speaking more than 20 languages! South Mecklenburg is also an academically successful environment as 70% of its graduates go on to attend four-year universities (see "
SM Profile
").
We wish Mireia and Amanda the best as we wish her the best as they seek to engage their fellow students in investigation of intelligent design theory.